Quotation of quenching transformer for medium frequency quenching equipment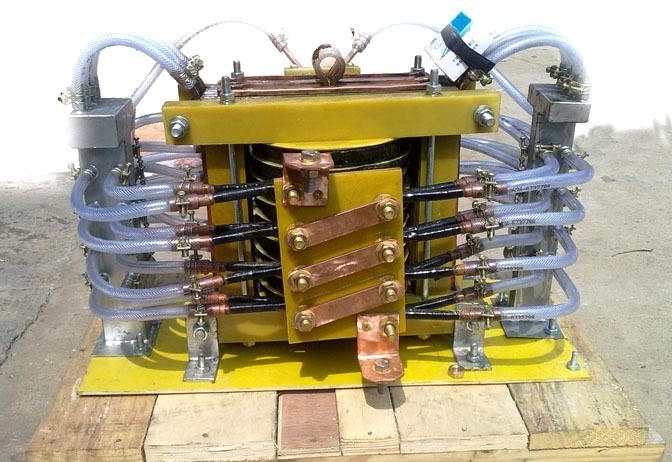 Structure
It is made of Mn-Zn-2000 high saturation ferrite blocks stacked.
The coil adopts an overlapping type of turns ratio that changes more. The primary and secondary sides can be arbitrarily composed of various turns ratios according to needs. To adapt to different users with different load matching.
The coil part is potted with epoxy resin to ensure the seismic performance of the transformer and increase the service life.
Working conditions
This product is a single-phase, water-cooled, indoor device. The altitude of the installation site does not exceed 1000 meters, the ambient temperature is +2℃~40℃, and the relative temperature does not exceed 85%. The adapted cooling water cannot contain mechanical mixtures. Its cleanliness is the same as drinking water, and the hardness of cold water does not exceed 10 hardness. The inlet water temperature does not exceed 30°C, the outlet water temperature does not exceed 50°C, the water pressure is 0.1Mpa-0.2Mpa, and the total water consumption is about 20T/n. It is recommended to use circulating water.
Single order price
model(KW)
Dimensions

(L *w *h)

Quotation

(Yuan)

30
260*260*250
4800
50
270*270*250
3900
75
300*260*240
5000
160
300*300*350
6800