2000 degree electric heating electric furnace heating element: graphite heating element
The heating element of 2000 degree electric heating box furnace is generally made of graphite, molybdenum or MoSi2. Graphite elements are often used as heating elements in high-temperature vacuum furnaces, which play an important role in the popularization and application of high-temperature vacuum resistance furnaces and high-temperature protective atmosphere furnaces. How much degree can the graphite heating element heat up? The graphite heating element is used in vacuum at a temperature of 2200℃, and can reach 3000℃ in a reducing atmosphere or an inert atmosphere.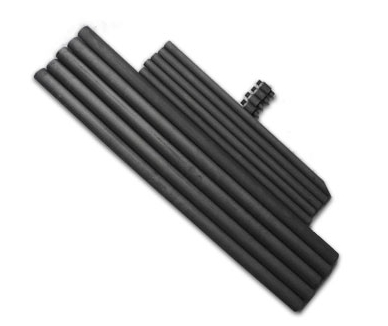 Graphite heating element: Graphite heating element is a heating element with graphite material as the heating body. Graphite has the characteristics of high temperature resistance, low thermal expansion, and strong thermal shock resistance. Its mechanical strength increases with the rise of the crushing temperature below 2500°C. Around 1700°C is the best, exceeding all oxides and metals. Graphite material has a high melting point and low vapor pressure. The atmosphere of the vacuum furnace contains low concentration of carbon, which will react with oxygen and water vapor in the residual gas to produce a purification effect, which greatly simplifies the vacuum system and reduces the cost. In the manufacturing process of the vacuum furnace, the heating element generally used for heat treatment is graphite, including its hearth support, heat preservation screen, connecting plate, connecting nut, vent pipe and so on.
With the improvement of the level of heat treatment equipment and the deepening of process requirements, the temperature requirements for vacuum furnaces are also getting higher and higher. Traditional heating elements such as silicon carbide rods and silicon molybdenum rods can no longer meet the high temperature requirements, and graphite rods have emerged as the times require .