How about continuous heating equipment for aluminum rods?
The aluminum rod continuous heating furnace is a mature equipment produced by Luoyang Songdao Induction Heating Technology Co., Ltd., which has successively produced aluminum rod heating equipment for many domestic aluminum profile factories. Shandong Rongtai Induction Technology Co., Ltd. products include: aluminum rod heating furnace, Bar material heating furnace, bar material forging heating equipment, bar material quenching and tempering production line, bar material induction heat treatment, bar material diathermy forging furnace and other induction heating equipment.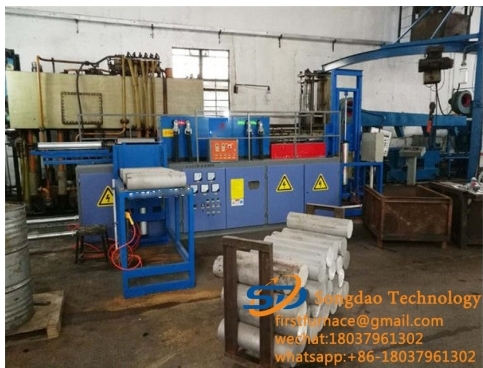 Aluminum rod heating furnace use:
Energy-saving intermediate frequency diathermy furnace and aluminum rod continuous heating furnace can be used for bar material, round steel, square steel, steel plate diathermy, supplementary temperature, blue quenching blanking, online heating, and local Heating, heating before forging of metal materials (such as gears, semi-shaft connecting rods, bearings, etc.), extrusion, hot rolling, and shearing, as well as the overall tempering, annealing, and tempering of metal materials.