Test method for withstand voltage of SMC insulation board
The use function of SMC insulation board is one aspect we are more concerned about. Therefore, in many cases, in order to ensure that its use function is qualified, it will be tested for withstand voltage. This test can see whether the insulation function of the insulation board is outstanding, so it is still very important. If necessary, let us introduce the method of voltage withstand inspection below.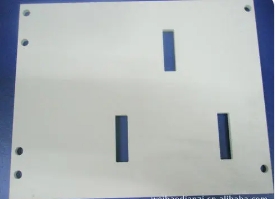 Each SMC insulation board needs to be checked for voltage withstand function. The inspection method is to put the insulating plate on a frame covered with a metal plate (usually aluminum plate), place a metal plate on the insulating plate with each side less than 10 cm of the insulating plate, and then place an electrode connected to the transformer on the metal plate. One electrode is connected to the other side of the SMC insulation board, and then rises to the specified voltage for inspection at a speed of about 1000V/s for 1 min and records the reading indicated on the milliampere meter. Those that do not penetrate are qualified products. The SMC insulation board that was broken down by high voltage during the inspection is allowed to be repaired at the hole, but after the repair, the withstand voltage inspection must be performed again.
This is the end of the test method for the withstand voltage of the SMC insulation board. In fact, for the insulation board, if you want to ensure its excellent use function, you need to carry out the inspection work in time, as long as it can judge whether its quality is qualified or not. , Of course, you should also pay attention to whether the manufacturer has the production qualification when purchasing.