Principle of Double Roller Transmission Device for Steel Tube Induction Heating Furnace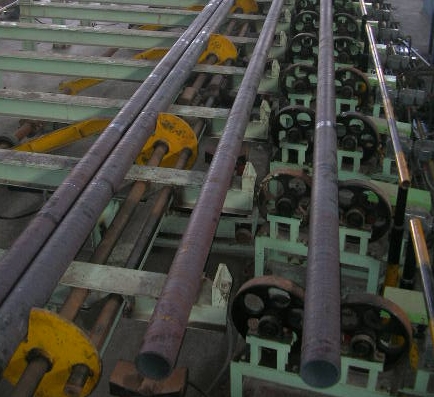 Double roller transmission device for steel tube induction heating furnace. By adjusting the angle of the double rollers, the steel pipe can be rotated at the speed of rotation and the forward speed can be ensured. The double roller transmission adopts a reducer and a frequency conversion speed regulating device to ensure the forward speed requirements of steel pipes of different diameters. There are 38 sets of double roller rollers, the distance between the rollers is 1200mm, the center distance between the two wheels is 460mm, the diameter of the rollers is φ450mm, taking into account the heating steel pipes from φ133mm to φ325mm, one of the rollers is the power wheel, and the other is the support The passive wheel, considering the steel tube induction heating furnace has a certain installation position, the power wheel is designed with a set of 1:1 sprocket chain transmission device, the purpose of which is to move the center distance of the transmission connection by 350mm. All idler rotation shafts are equipped with water cooling device, and the idler support adopts bearings. In order to ensure the consistent and balanced transmission speed of the workpiece before and after, 38 frequency conversion motors are used for the power. Motor speed control, with frequency converter, φ325 roller speed range: 10-35 rpm, forward speed 650-2000mm/min, frequency converter speed range: 15-60HZ. The roller is placed at an angle of 5° with the center. The maximum angle can be adjusted to 11°, and the minimum can be adjusted to 2°. The angle of the roller is adjusted by the electric motor to drive the turbine worm to centrally adjust. The integral double roller transmission device is installed on a 0.5% slope climbing table from the feeding end to the discharging end, so that the water remaining in the steel pipe after quenching can be smoothly discharged.
By controlling the speed of the feeding roller, heat treatment roller, and discharging roller, the steel pipe is connected to and from each section of the heating furnace until the pipe body of one steel pipe completely leaves all the heating furnace bodies.