Operation points of billet induction heating furnace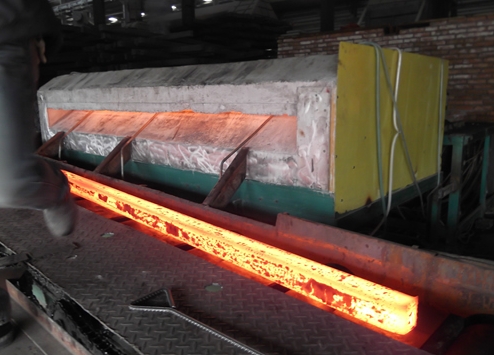 The purpose of the billet induction heating furnace : It is used to heat carbon steel, alloy steel, ball bearing steel, including ferritic steel and austenitic steel, to the maximum extrusion temperature of 1250℃T. Billet "plus hot" furnace heated to 1250 deg.] C after the punch a hole shall be due to a decrease in the temperature of the billet , "then the heating" furnace, and then extruded.
The induction heating furnace can process 4 kinds of billets with different diameters. Changing from one diameter billet to another diameter billet requires some adjustments to the furnace and replacement of the inductor.
The structure of the induction heating furnace : the induction heating furnace is vertical, with hydraulic transmission, which is convenient for automatic control.
The coil of the inductor is wound with a special-shaped pure copper tube, arranged in a single layer, cooled by water, with a magnetic conductor, and an open tube made of high temperature resistant material in the coil, and there is a protection between the coil and the heat resistant tube cylinder.
"Plus hot" and the furnace "re Technical Data heating" of the furnace are shown in Table 12-8.
Table 12-8 Technical parameters of heating furnace and reheating furnace
Serial number
name
"Plus hot" furnace
" Reheat" furnace
1
Rated power of adjustable transformer /kVA
850
700
2
Transformer power supply voltage/V
6000
6000
3
Transformer secondary voltage/level
10
10
4
Sensor power /kW
750
600
5
Blank material
Magnetic and non-magnetic steel
Magnetic and non-magnetic steel
6
Sensor connection
Simplex
Simplex
7
Maximum heating temperature /Y
1250
1250
8
Sensor voltage/V
600
600
9
Pressure of cooling water /Pa
3 X10 5
3 X10 5
10
Cooling water consumption/ (m 3 /h)
12
12
The dimensions of the billet and the inductor of the heating furnace are shown in Table 12-9.
Table 12-9 Relevant dimensions of the sensor (unit: mm)
| | | | | |
| --- | --- | --- | --- | --- |
| Sensor number | A | B | C | D |
| Billet diameter | Φ 214 | Φ 254 | Φ 293 | Φ 336 |
| Billet length | 307 – 1000 | 307 – 1000 | 307 – 1000 | 307 – 1000 |
| Coil inner diameter | Φ 282 | Φ 323 | Φ 368 | Φ 412 |
| Coil turns | 73 turns | 73 turns | 68 turns | 68 turns |
| Coil height | 1250 | 1250 | 1250 | 1250 |
| Heat-resistant tube size | ©231 / Φ 237 | Φ 272/ Φ 278 | Φ 13 0 / Φ 19 1 | Φ 357/ Φ 363 |
| Heat-resistant tube height | 1490 | 1490 | 1490 | 1490 |
| Protection tube size | Φ 241/ Φ 267 | Φ 282/ Φ 308 | Φ 323/ Φ 353 | Φ 367/ Φ 97 |