High temperature tube furnace
A. Main purpose
Tubular furnaces are mainly used for heat treatment of samples in the laboratory under vacuum or protective atmosphere. Ceramics, metallurgy, electronics, glass, chemicals, machinery, refractory materials, special materials, building materials, universities, scientific research institutes, industrial and mining enterprises do powder roasting, Ceramic sintering, high-temperature experiment, material processing, high-temperature atmosphere sintering, atmosphere reduction, CVD experiment, vacuum annealing, etc. in quality universities, scientific research institutes, industrial and mining enterprises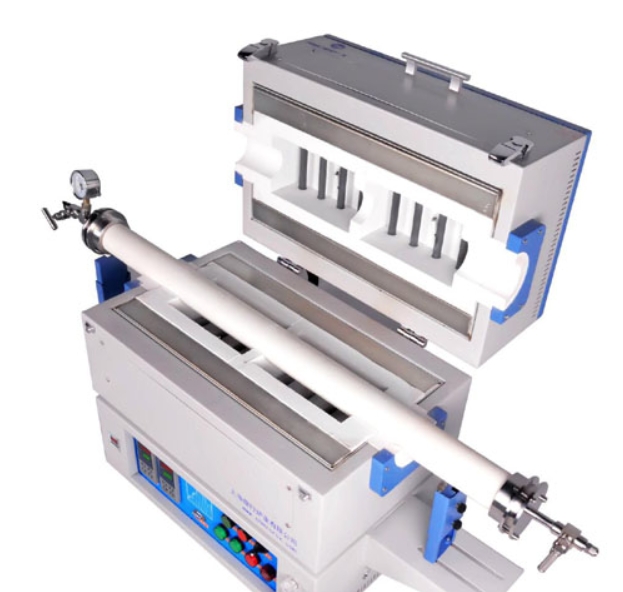 B. Product introduction
The introduction of foreign technology, independent research and development and production, energy-saving, new electric furnace. It has a reasonable double-layer shell structure, the surface temperature is less than or equal to 40 ℃, and the appearance is beautiful and generous. It is processed by cold-rolled steel plate, CNC machine tools, high-precision laser cutting machines, and CNC bending machines. The surface is beautiful, luxurious, and two-color. The oxidized powder is electrostatically sprayed to achieve a durable, non-fading, high-temperature and corrosion-resistant surface treatment.
Heating element: Choose different heating elements according to the furnace temperature. Heating elements are divided into: electric furnace wire, resistance band, silicon carbide rod, silicon molybdenum rod, and molybdenum wire.
Liner material: The liner is made of imported temperature refractory materials and constructed by the craftsmanship. Strong thermal shock resistance, good corrosion resistance, no collapse, no crystallization, no slag, and long service life!
The two ends of the furnace tube are sealed with stainless steel flanges, which can work under vacuum. The flanges are equipped with air inlets and outlets for the introduction of protective gas. The stainless steel flanges are designed with quick opening for easy access to materials.
C. Product features
1 , furnace imported polycrystalline alumina fiber material, good insulation properties ,, high tensile strength, without hetero ball, high purity, energy-saving effect, industry-standard
2 , the heating body is made of high temperature heating elements, can withstand large loads, a stable and long life, to ensure, using full-uniformity of the temperature field isolation transformer copper good
3 , tube material: quartz / alumina tube / alloy pipe / steel pipe (according to temperature) of the connection, may be introduced into a variety of different protective atmosphere
4 , high precision, small red temperature, with temperature compensation and temperature correction, temperature control accuracy of ± . 1 deg.] C
5 , imported temperature control instrument, having a program function, can be set temperature curve, it can be made available 50 program blocks
6 , integrated structure, double hull, the air circulation heat insulation, excellent design, beautiful, generous
7 , electronic components are used in products, with leakage protection, reliable
8 , the present machine alarm signal during operation will be over-temperature, and to automatically complete protective action
9 , when the instrument procedure setup is complete, as long as the run button is pressed, the next work will be done automatically
10. Convenient operation, programmable, PID self-tuning, automatic heating, automatic heat preservation, automatic cooling, no need to be on duty; it can be equipped with a computer to communicate with the computer to operate the electric furnace (start the electric furnace, stop the electric furnace, pause the heating, set the heating curve, and increase the temperature Curve storage, historical curve, etc.).
11. Stainless steel KF metal flange seal (double rubber ring)
12. The furnace temperature is close to room temperature
13. Vacuum degree -0.1Mpa (can be customized if the vacuum degree is required)
14. It can pass a variety of gases (oxygen, nitrogen, argon, hydrogen, etc.) (gas can be customized)
15. Temperature category: Temperature category: 600 ℃ 800 ℃ 1000 ℃ 1200 ℃ 1400 ℃ 1600 ℃ 1700 ℃ 1800 ℃
D. Technical parameters
| | |
| --- | --- |
| project | Technical index |
| Voltage V | 220V/380V |
| set tempreture | 600 ℃, 800 ℃, 1000 ℃, 1200 ℃, 1400 ℃, 1600 ℃, 1700 ℃, 1800 ℃ |
| Heating element | Using resistance wire , U -shaped silicon carbide rod , U silicon-molybdenum rod , (depending on temperature) |
| Temperature control accuracy | ± 1 degree (integrated circuit control, no overshoot phenomenon) |
| The control range is | 0//1800 degrees |
| Temperature measuring element | K -type thermocouple ( 0-1250 ℃) /S -type thermocouple ( 0-1600 ℃) /B -type thermocouple ( 0-1800 ℃) (depending on temperature) |
| Furnace tube material | Quartz tube / corundum tube / alloy tube / stainless steel tube 310s (depending on temperature) |
| Flowmeter | Range: 0.3-3L/min (can be customized according to requirements) |
| Heating rate | 0-30 ℃ /min (The heating rate can be adjusted freely) |
| Vacuum | Of -0.1 MPa , (can be customized 1 Pa , -1Pa , -0.01Pa , etc.) can be customized according to customer requirements |
| Temperature control method | Microcomputer program control function, you can input settings: multiple curves can be input at the same time, and they can be called arbitrarily during use |
| Furnace refractories | High-purity alumina polycrystalline fiber material containing zirconium |
| Cooling structure | Double-layer furnace shell, air-cooled; furnace temperature ≤ 45 degrees |
| Passable gas | Nitrogen, argon, oxygen, hydrogen, ammonia, and other inert gases, etc. (can be customized according to customer requirements) |
| Sealing flange | There is a set of stainless steel sealing flange in the standard configuration of the instrument, and stainless steel shut-off valves are installed at both the outlet and inlet ends. |
| Computer interface (optional) | RS485/RS232/USB |
| Warranty scope and period | One year free warranty for electric furnace, no warranty for heating element and thermocouple |
| Random spare parts | The heat generating member 2 sticks, sticks with 2 sets of tube 1 sticks, sealing flange 2 sets of instructions 1 parts certificate 1 parts, high-temperature gloves, 1 pair. |
Ordering instructions: heating zone length ( *** ) mm , furnace tube diameter ( *** ) mm , voltage selection ( 220V/380V ), temperature requirements ( **** ℃), vacuum requirements ( -0.1MPa — 10 -6Pa )
Furnace tube size: heating zone and tube diameter can be customized!
Diameter of furnace tube (mm)
Heating length (mm)
Voltage AC
Power (KW)
Precision
30 , 40 , 50 , 60 , 80 , 90 ,

100 , 110 , 120 , 150, etc.

150 , 250 , 300 , 400 , 500

600 , 700 , 1000 , 1200, etc.

220V/380V
0.5-30KW
Control accuracy ± 1 ℃
Other furnace tube sizes can be customized according to customer requirements