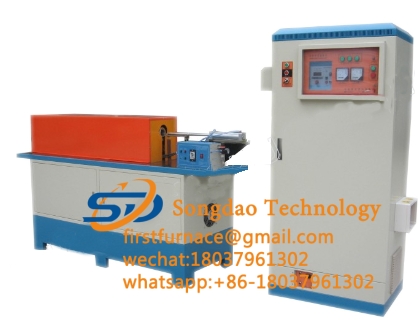 SD-240/300 intermediate frequency forging furnace
1. Main components:
(1) SD-240/300 intermediate frequency power supply
(2) Compensation capacitor and forging furnace table
(3) Induction coil, guide rail and outer cover
(4) Pneumatic feeding mechanism
2. Maximum input power: 240/300KW
3. Output oscillation frequency: 1-20KHZ
4. Input voltage: three-phase 380V 50 or 60HZ
5. Cooling water requirements: ≥0.2MPa, ≥50L/min
6. Heating capacity (KG/min)
(1) Steel to 1000℃: 8.5KG/10.7KG
(2) Copper to 700℃: 12KG/15KG
7. Table size: length 2 meters × width 0.8 meters × height 0.89 meters
8. Weight of induction forging furnace for iron:
9. Intermediate frequency power supply volume: width 80cm×thickness 56cm×height 180cm
10. Weight of intermediate frequency power supply: 280KG/300KG
11. Used for continuous heating of monolithic materials such as steel, copper, aluminum, etc.
typical application: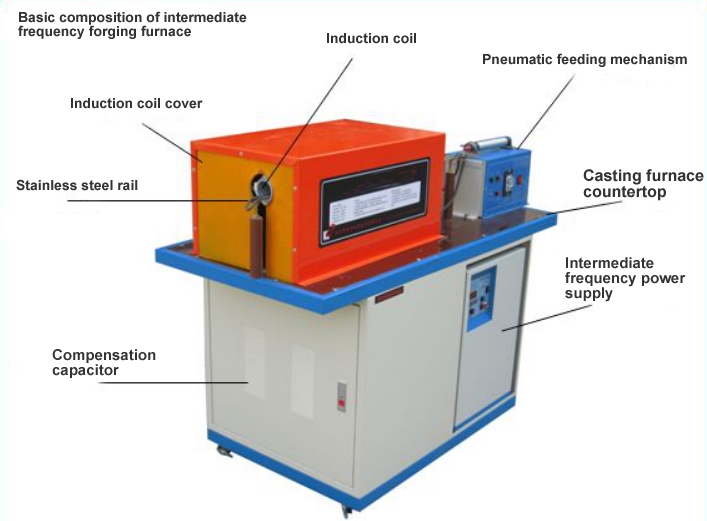 Including intermediate frequency power supply, compensation capacitor box and workbench, induction coil, feeding mechanism, etc. According to different application requirements, it may also include infrared thermometers, temperature controllers, and feeding and coiling devices;
The characteristics of the intermediate frequency monolithic heating furnace:
(1) The frequency range is large, from 1KHZ to 20KHZ, and the appropriate frequency can be selected according to the diameter of the specific heating workpiece.
(2) When the whole material is heated in the intermediate frequency forging furnace, the length of the induction coil is 500mm-1 meter long, and multiple materials are being heated at the same time, which ensures the effect of heat transmission;
(3) The medium frequency monolithic heating furnace adopts continuous heating mode, and the load inside the induction coil is relatively balanced, which overcomes the equipment caused by the huge load change when the load of a single bar rises from room temperature to 1100°C during the entire heating process. The huge change in the actual heating power ensures that the actual power of the equipment can be more than 85% of the rated power during the entire continuous heating process, and the equipment can be used effectively.
(4) When heating non-ferrous metals such as copper and aluminum, the actual power of the equipment can be more than 85% of the maximum power through reasonable design of the induction coil and capacitor, and the heating capacity of 3.5KG/KW•hour when heating copper.
(5) Compared with the thyristor intermediate frequency power supply, it is not only small in size and convenient to maintain, but it can also save power by 15-20%.
Main monolithic heating furnace specifications and heating capacity:
Main specifications
Maximum input power
Heating capacity of common materials
Heating steel and stainless steel materials to 1100℃
Heat the brass material to 700℃
SD-35 Forging furnace
35KW
1.25 KG/min
1.75 KG/min
SD-45 Forging furnace
45KW
1.67 KG/min
2.33 KG/min
SD-70 Forging furnace
70KW
2. 5 KG/min
3. 5 KG/min
SD-90 Forging furnace
90KW
3.33 KG/min
4. 67KG/min
SD-110 Forging furnace
UOKW
4.17 KG/min
5.83 KG/min
SD-160 Forging furnace
160KW
5.83 KG/min
—
SD-240 Forging furnace
240KW
9.2KG/min
—
SD-300 Forging furnace
300KW
11.25 KG/min
—