Manufacturing spring continuous induction heating furnace
A. Main process parameters:
The diameter of the heated round steel for the spring: Φ12——16×3000——6000mm,
Φ22——25×3000——6000mm
Φ32——36×3000——6000mm
Φ40——48×3000——6000mm
The temperature to which the round steel for spring is heated: 980~1100℃
Round steel processing beat: 2~4 minutes per piece for general specifications, 5 minutes per piece for large specifications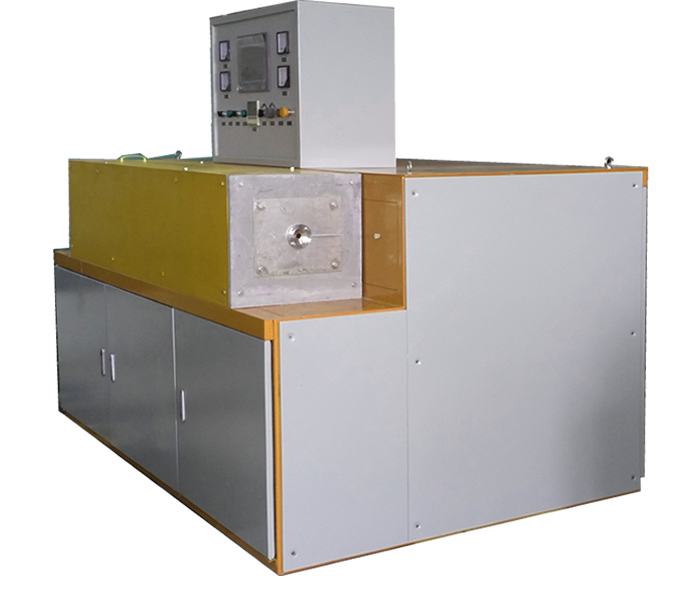 B. Technical parameters of continuous induction heating furnace for manufacturing springs:
According to the characteristics of induction heating and the experience in practical applications, such workpieces are generally heated
It is divided into two stages-first low-frequency heating, and then high-frequency insulation. Such scientific and reasonable use of equipment not only guarantees the process requirements of the workpiece, but also efficiently utilizes energy and improves production efficiency.
According to the workpiece heating process technical parameters and heating process technical requirements, the workpiece is selected to increase the temperature and heat preservation. The temperature raising section is equipped with a dual-band intermediate frequency power supply model of KGPS-500/4, 8. When heating materials with Φ12-16 and Φ22-25, the frequency is 8KHz, and the power is used at 250KW; when heating the materials with Φ32-36, Φ40-48, the frequency is 4KHz, and the power is used at 500KW. The heat preservation section is equipped with a KGPS-250/8 intermediate frequency power supply with a frequency of 8KHz and a power of 250KW.
C. System configuration of continuous induction heating furnace for manufacturing spring
1. Electrical part:
One KGPS-500/4~8 intermediate frequency power supply
One KGPS-250/8 intermediate frequency power supply
Electric capacity cabinet: 500KW/4, 8KHz dual frequency one set
Electric capacity cabinet:  250KW/8KHz one
Temperature sensor: one set of GTR25×500 (heating φ12~16, 3 pcs per set)
Temperature sensor: one set of GTR35×500 (heating φ22~25, 3 pcs per set)
Temperature sensor: one set of GTR50×500 (heating φ32~36, 3 pcs per set)
Temperature sensor: one set of GTR60×500 (heating φ40~48, 3 pcs per set)
Insulation sensor: one set of GTR25×500 (heating φ12~16, 9 pcs per set)
Insulation sensor: one set of GTR35×500 (heating φ22~25, 9 pcs per set)
Insulation sensor: one set of GTR50×500 (heating φ32~36, 9 pcs per set)
Insulation sensor: one set of GTR60×500 (heating φ40~48, 9 pcs per set)
Operation desk: one dedicated
Rectifier transformer: 1000KVA one
Infrared thermometer: a set of American Raytech TX
Programmable controller: a set of Siemens S7-200
One set of computer, software and printer
2. Mechanical part
Workpiece heating and conveying system (including inverter, motor, reducer, chain, etc.) one set
One set of rapid workpiece discharging device (including frequency converter, motor, reducer, chain, etc.)
Feeding drive shaft assembly group 4
The drive shaft assembly in the sensor
Discharge drive shaft assembly five groups
Rack one set
One set of quick lifting pressure wheel assembly